Glass Clarity – How iron plays a part in how clear, and what color your glass is. We're sure you've noticed that some glass has a greenish hue tint. This is directly associated with how much iron your glass has in it. More iron in your glass equals less clarity, its also what gives your glass that greenish-blue hue or tint.
I Picked Out Glass, When I got It was Really Green!
This is very common and happens all the time. There are many factors that can change or alter the look of your glass in a given environment. One major variable is ambient light. Some indoor and outdoor light sources can make your glass look different. This common occurrence is directly associated with the iron content within your glass. Have you ever wondered why some kinds of glass have a deep greenish hue or tint? Iron, equals green. The more iron within your glass, the greener the hue.
Here at A Cutting Edge Glass & Mirror we like our glass clear, the way it's suppose to be. We understand that people design and purchase glass for clarity. That's why our glass stays true to form by decreasing the amount of iron that is used in the production process. We've included some great info graphics that can assist you in understanding some basic concepts within the glass industry. Because if you want clarity, you're going to want to choose a glass with less iron in it.
The Flat Glass Edge Tells All! Glass Shower Door Knowledge
You can learn a lot by examining the edge of a sheet of glass. When it comes to the outer edge of glass, more often than not the actual piece is never as clear as they appear in the showroom. When you order glass for your custom shower door enclosure, you'll want to inquire about the specifications of the sheet. the edge color will gradually change based on the thickness and overall dimensions of the glass. So when your looking at an 1/4″ inch sheet of glass in a showroom and end up ordering that same style of glass in 1/2″ thickness, you're going to be surprised on the day of delivery. As the thickness will alter the the hue dramatically.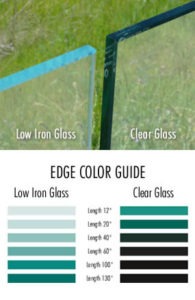 We've included some pretty handy glass info graphics to the right for your own use. We recommend understanding some of these basic concepts before purchasing your custom shower door. With A Cutting Edge Glass & Mirror you have a choice. You can choose from our "Low Iron" selection or from traditional clear glass (high iron content). So if you're in the market for truly clear glass, you'll want to specify this to your professional design consultant.
Whether you use us as your designer or another company here in town, at least you'll now be an educated consumer and get exactly what you want. If you're ready to start your custom glass shower door enclosure and would like to schedule an in-home consultation today!