A Cutting Edge Glass & Mirror is Las Vegas, Nevada's premiere source for high quality custom shower door enclosures. From traditional framed glass shower door enclosures to frameless we're one of the leading providers of beautiful glass shower doors designs & installations. Please give us a call when you're ready to replace, redesign, or remodel your bathroom's glass shower door enclosure.
View our new custom glass shower door video and see the quality of our work here at A Cutting Edge Glass & Mirror.
Custom Glass Shower Doors of Las Vegas, Nevada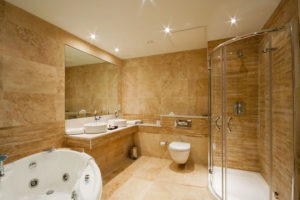 "A Cutting Edge Glass & Mirrors is your source for premium quality glass shower door enclosures, frameless shower door enclosures, shower door handles, shower door shelving and mounting accessories. We're one of the industry leaders in quality custom glass shower enclosures."
We're here to assist you whether you're a home owner looking to redesign your shower/bath space, architect, or contractor looking for a custom solution. The professionals here at A Cutting Edge Glass are well respected, knowledgeable & friendly. With decades of experience, we're confident that we can help you choose a solution that fits your unique style and needed functionality.
What's the Difference between a Traditional & Frameless Shower Door
One of the defining elements of a bathroom is usually your shower/bath area. The shower or bath area is designed to be comfortable, stylish, and to contain water from spilling out into the rest of your bathroom area. Shower enclosures have changed dramatically over the years, they've morphed into beautiful and sophisticated areas that look amazing and have incredible functionality. Today we're going to talk about framed and frameless glass shower door enclosures. There are some very important factors to consider when choosing either of the two.
Traditional Framed Glass Shower Door Enclosures
The traditional framed glass shower door enclosure system usually features an aluminum or composite frame. The traditional enclosure frame holds the glass wall partitions together to give it structure, as well as allowing for the operable parts to function in the door region. The frames can be coated with chrome, bronze, nickel, gold or other available finishes. A framed enclosure is usually slightly easier to seal & waterproof.
The Modern Frameless Shower Door Enclosure
Frameless shower door enclosures usually rely on much heavier-duty types of glass, along with special pivots that allow for structural support. The frameless enclosure is usually free of any metal around the operable part of the glass partition. Some manufacturers still use a structural metal frame or a track in certain areas along the partitions, but for the most part remain frameless or semi-frameless. Frameless glass shower door enclosures are an elegant solution for any style bathroom.
Pros & Cons of Framed Glass Shower Door Enclosures
The traditional framed glass shower door enclosure is very effective when it comes to its seals and keeping water within the bath/shower area. The seals and sweeps that are usually included within the framed system allow for the door to be placed anywhere. With no need for highly polished edges, thicker glass and specialty hardware, framed enclosures will tend to be less expensive than frameless models. The non-traditional frameless system tends to look sleek and modern. The frameless glass shower door enclosure will flow right into the rest of your bathroom's beautiful aesthetic design, eliminating the hard lines that usually come with a framed system. Whether you choose a frameless or the traditional framed system, A Cutting Edge Glass of Las Vegas will give your project the time and attention to detail it deserves. Call us today to set-up a free on-site consultation.