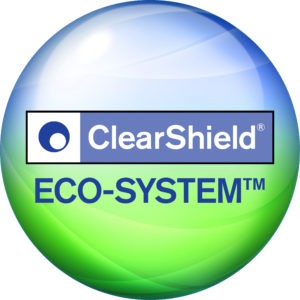 Here at A Cutting Edge Glass & Mirror we strive for excellence. We understand that we're only as good as the products and business partners we team up with. One of those amazing products we use and provide to our clientele is ClearShield®. We recommend it to anyone that resides here in the State of Nevada. Our harsh water and climate can take a toll on pretty much everything.
ClearShield® is a tried and true product, and a pioneer within the glass industry. Specializing in Low-Maintenance / Easy Clean Glass Technology. They are a leader in innovative glass products.
ClearShield® keeps your glass looking new! The ClearShield Eco-System provides unique solutions for glass renovation, durable 'non-stick' protection and maintenance, and is the recipient of numerous glass industry awards.
ClearShield® for Glass Shower and or Bath Door Enclosures
The ClearShield Eco-System gives the following benefits:
Helps you to sell more glass
Greater customer satisfaction
Easy to apply
Safe – no EPA concerns – non-hazardous materials
Environmentally responsible
The industry's best performance warranty
The option of AfterCare products that increase the long term benefits of ClearShield and keep customers dedicated to your business
For the homeowner, ClearShield Eco-Glass:
Keeps glass looking like new
Reduces water spots (limescale and mineral deposits)
Is always easier to clean
Stays cleaner for longer
Significantly reduces the growth of bacteria
ClearShield Protection
Water spots are unsightly and can be very difficult to remove on unprotected glass. The limescale from the hard water etches the surface of the glass, and high levels of humidity accelerate the corrosion process. The build-up of these contaminants increases the growth of bacteria.
Cleaning becomes very difficult – if not impossible – no matter how hard one tries, wasting much time and effort. The appearance of the shower glass declines until there is a permanent cloudiness and the bathroom environment becomes unhygienic.
Protection with ClearShield is effective in shower and bathroom environments because it resists limescale and improves hygiene. It ensures that shower or bath enclosure glass remains as clean and shiny as the day it was bought, with the least possible effort.
AfterCare Concept
Our range of AfterCare products offer even greater long- term protection to the glass and optimize cleaning benefits. However, normal glass cleaners can also be used. Full technical and commercial support is also provided.